Living in Essex Park in Belleville, NJ
Experience Tranquility and Convenience: Life in Essex Park, Belleville, NJ
Nestled in the heart of Belleville, New Jersey, the Essex Park community offers a harmonious blend of tranquility and convenience that's hard to find elsewhere. In this comprehensive guide, we'll delve into the unique experience, exploring the details that make it a sought-after residential enclave.
Exploring Belleville's Charms
Before we dive into the allure of Essex Park, let's take a moment to appreciate the town it calls home: Belleville. With its rich history, diverse community, and range of amenities, Belleville provides a warm and welcoming backdrop to the Essex Park community. Proximity to major cities, excellent schools, and a variety of recreational opportunities further enhance the appeal.
See All Essex Park Townhomes in Belleville, NJ
Essex Park: A Slice of Serenity
Nestled within Belleville, Essex Park offers an escape from the hustle and bustle of everyday life while keeping urban convenience at arm's length. The community's unique layout and design contribute to its tranquil atmosphere, making it an oasis of calm within the lively town.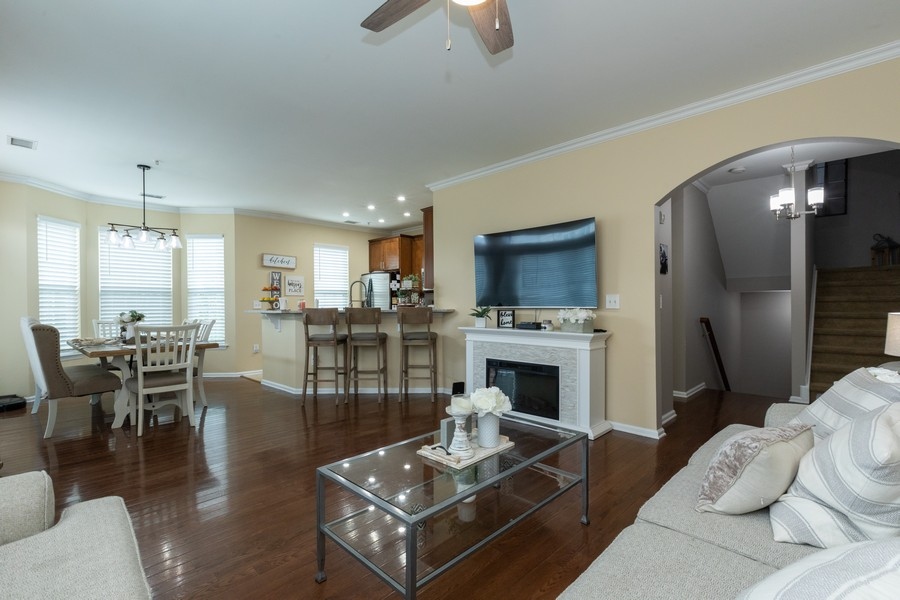 The Homes of Essex Park
The homes in are a reflection of modern design and comfort. Whether you're seeking a cozy one-bedroom unit or a spacious three-bedroom apartment, you'll find layouts that cater to a range of needs. The residences are characterized by open floor plans, ample natural light, and tasteful finishes that create a welcoming ambiance.
Modern Comfort and Elegance
Stepping into an Essex Park home is like stepping into a world of modern comfort and elegance. The interiors are thoughtfully designed with attention to detail, from sleek kitchens equipped with top-tier appliances to bathrooms that exude spa-like relaxation. High-quality materials and finishes contribute to an aesthetic that's both sophisticated and inviting.
Community Amenities: Elevating the Experience
One of the defining features of Essex Park is the array of amenities available to residents. The community is equipped with facilities that enhance the quality of life. A fitness center allows residents to maintain an active lifestyle without needing to leave the premises. For relaxation, a well-maintained pool offers a refreshing escape during warmer months. The clubhouse serves as a gathering space for social events, fostering a sense of community among residents.
Join Our Private Facebook Group
Peaceful Landscapes and Green Spaces
Beyond the interiors and amenities, Essex Park offers residents a connection to nature. Landscaped grounds, serene gardens, and walking paths provide a space for relaxation and contemplation. Whether it's enjoying a morning stroll or unwinding by the poolside, the outdoors play a significant role in shaping the overall experience of living here.
Building Community and Connection
Living in Essex Park goes beyond the physical surroundings—it's about fostering a sense of community and connection. The well-designed communal spaces, such as the clubhouse and pool area, encourage interactions among neighbors. Residents can engage in casual conversations, host gatherings, and form lasting friendships in this close-knit community.
Belleville and Beyond
While Essex Park provides a tranquil escape, the attractions of Belleville are never far away. The town's downtown area is a hub of dining, shopping, and entertainment options. From charming cafes to international cuisines, you'll find an array of culinary delights to explore. The Belleville Farmers' Market offers fresh produce and artisanal goods, ideal for those who appreciate locally sourced products.
Education and Recreation
For families, Belleville's school district ensures quality education. Belleville High School, with its academic programs and extracurricular activities, stands as a testament to the town's commitment to learning. Proximity to parks like Branch Brook Park and Silver Lake Park provides opportunities for outdoor activities, picnics, and leisurely strolls.
Find out what your home is worth Instantly!
Convenient Connectivity
One of the key advantages of living in a strategic location. Belleville's accessibility to major transportation routes ensures convenient commuting to neighboring towns and cities. New York City is easily accessible via various transit options, allowing residents to enjoy both suburban living and urban exploration.
The Essex Park Lifestyle: Pros and Cons
As with any living situation, Essex Park offers its own set of pros and cons. The serene surroundings, luxurious amenities, and sense of community are undoubtedly highlights. The modern comforts, upscale design, and access to Belleville's attractions further enhance its appeal. However, potential considerations include condo association fees and the communal living aspect, which may not suit everyone's preferences.
Conclusion
In conclusion, living in Essex Park, Belleville, NJ, offers a unique blend of modern elegance, serene landscapes, and a strong sense of community. With their thoughtfully designed homes, upscale amenities, and lush outdoor spaces, Essex Park provides residents with a lifestyle that's both rejuvenating and convenient. Set within the charming town of Belleville, Essex Park epitomizes the best of suburban comfort while allowing residents to access the vibrant urban experiences just beyond their doorstep. Embrace the tranquil elegance and modern convenience that define life in Essex Park, and discover the balance between relaxation and connectivity that this unique community offers.